The age of this physical world is not linear, but travels in repetitive cycles...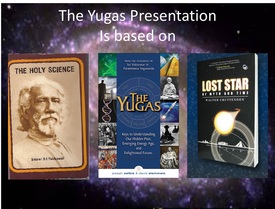 Prevailing mainstream archeological and paleontological dogma is based on Darwin's linear theory of evolution that all developments come from prior inferior developments.
However, in recent decades new technologies have emerged such as carbon dating, DNA mapping, radiometric or argon dating which allow us to more accurately date archeological artifacts and which contradict previous Darwinian theories.
For example, how can we reconcile Darwin's theory that man evolved from apes 200,000 years ago with a coin found in a well drilling in Lawn Ridge , Illinois dated between 200,000 BC and 400,000 BC, and a two inch long thread pattern of a screw found in the Abbey Mine in Treasure City, Nevada dated 21 million BC.
"…rather than modern archeology's and paleontology's prehistoric rags to riches story…Darwinian theory is really a prehistoric (approach to the) enlightenment of modern materialism…" The Yugas.
In the Lost Star of Myth and Time, Walter Cruttenden, Director of the Binary Research Institute, an archaeo-astronomy think tank in California, focuses on the cause and consequences of solar system motion and the astronomy of ancient cultures. He presents concrete evidence of the repetitive ages. His award-winning documentary, The Great Year, narrated by James Earl Jones, brings to life the mysteries of these higher and lower ages.
He has also recently released a book and video to help children understand these mysteries in a simple
colorfu
l
story. It's called The Great Year Adventures with Tommy the Time Traveling Turtle
.
---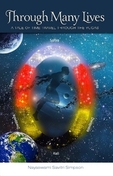 Nayaswami Savitri has also written an excellent book
:
"Through Many Lives: A Tale of Time Travel Through the Yugas."
A captivating time-travel adventure, based on the revolutionary "cycles of time" or "yuga" theory propounded by Paramhansa Yogananda (author of the bestselling classic Autobiography of a Yogi) and Yogananda's guru, Swami Sri Yukteswar. Through Many Lives provides insights into how time travel might actually take place in the future, by experiencing one's own past and future lives. A mood of gentle excitement permeates the book, while profound spiritual teachings are presented through the medium of a compelling story.
---
Our Milky Way galaxy


A more plausible alternative to mainstream archeological and paleontological Darwinian dogma is a recurring cycle of movement and time around the recently discovered black hole Sagittarius A, located at the center of our Milky Way Galaxy

.

This black hole was known to the ancient rishis of India thousands of years ago as Vishnunabhi, the Grand Center of Enlightenment.

---

Many ancient civilizations understood the cycles of time...


The age of this physical world is not linear, but travels in repetitive cycles. The Mesopotamian, along with the Mayan, Aztec, Egyptian, Greek, and Hebrew cultures, all referred to higher times and declining ages. The Greeks called the cycle "The Great Year". The ancient Indian yoga culture called it the "Yuga" cycles. Through these ages mankind has again and again lost and gained knowledge of the physical laws governing it.


---
Ancient Indians and Greeks...


The Greeks called the cycle "The Great Year". The ancient Indian yoga culture called it the "Yuga" cycles. Through these ages mankind has again and again lost and gained knowledge of the physical laws governing it. "Thoughts are universally, rather than individually rooted." Paramhansa Yogananda.

---

Many round trips from enlightenment to darkness...


Each age changes the group consciousness of mankind, thus changing civilizations and human development. The Yugas not only predict highly advanced ages in the future, but indicate that they have occurred in the past as well. In the ascending part of the cycle, the natural force toward a new upward consciousness struggles against a smaller human group consciousness not willing to advance to the next level.


---
One yuga cycle of 24,000 years...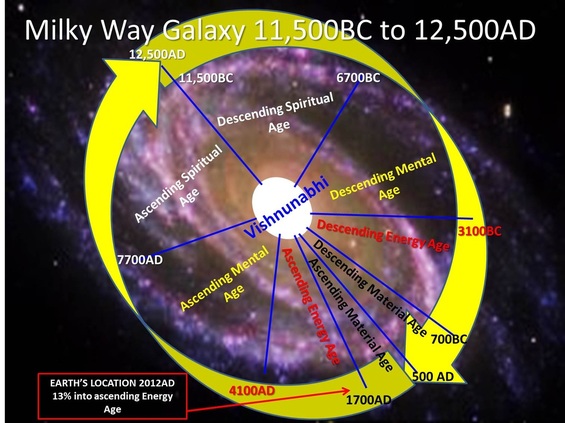 "…According to a recent Time Magazine article, over 17 million people are now meditating in the United States alone. Slowly but surely consciousness seems to be expanding, boosting our ability to better understand the mysteries of the universe, and the mechanisms of the precessional cycle…"
Lost Star of Myth and Time
, Walter Cruttenden.
---
Ascending Dwapara Yuga

Here we are once again 13% into ascending Dwapara. For how many ages has this particular time in the cycle of the yugas occurred? Countless!

From 16,300BC until 6,700BC Satya Yuga prevailed. World consciousness was dominated by pure consciousness; direct intuitive perception; self-realization; life was understood to be a school; mankind experienced heaven, while still on earth; simplicity was the order of things. The awareness, motivations, and abilities of mankind in Satya Yuga are nearly beyond our comprehension. "God" is a loaded word today. It conjures up different meanings for different people. Yoga 's explanation is that God is pure consciousness, beyond form and limitation. Our own being is an inextricable expression of this consciousness. Although not everyone in Satya Yuga will achieve self-realization, most will strive for it in this higher age of group consciousness. Humans communicated telepathically and could create their dharmic desires instantly, at will.

From 6700BC until 3100BC mankind's group consciousness began its decline into the descending Treta Yuga. Although having lost direct intuitive union, Treta man mimicked the miraculous powers of Satya Yuga. World consciousness was dominated by: loss of awareness of Spirit (universal consciousness) behind all thought; and the loss of miraculous capabilities. One of the most important artifacts from Treta Yuga-The Four Vedas: a collection of over 10,000 Sanskrit verses dating back to 7300 BC. These works were first memorized by Brahmin priests, handed down for generations, and subsequently recorded in written form. The Vedas consist of 4 documents: Rig Veda, Sama Veda, Yajar Veda, and Artharva Veda. Advanced souls, still possessing the Satya consciousness, showed the lessened aware people of Treta practical ways to attain Satya capabilities through the use of the mantras of the Vedas. Treta man still saw that the "matrix of thought" guided the formation of everything else: Thought-Energy-Matter. Underlying the matrix of thought is "divine magnetism".

From 3100BC until 700BC mankind's group consciousness further declined into descending Dwapara Yuga. World consciousness was dominated by: loss of awareness of thought as the higher law above energy; focus on energy underlying all matter (E=mc²); priority on self interest; and the rise of cities and commerce. Dwapara Yuga is an era when mankind, as a whole ,comprehends that energy underlies all matter. Rather than using energy for the development of technology, higher Dwapara man, who inherited energy knowledge from Treta man, was able to convert energy directly rather than through the use of a middleman such as electricity, and without using electricity generating technologies such as fossil fuels, nuclear, hydro, geothermal, solar and wind.

From 700BC until 1700AD mankind's group consciousness declined even further, reaching its lowest point in 500AD in Kali Yuga. Kali Yuga was dominated by passive acceptance, dull mindedness, and matter consciousness.

From 1700AD until the present year of 2012AD, and continuing until 4100AD, mankind's group consciousness is finally on the upward swing on its long journey, once more, toward enlightenment in the age of ascending Dwapara Yuga. Today we use our energy technologies (fossil fuels, nuclear, geothermal, wind an solar) to create electricity. One day we may eliminate the middleman-electricity-and draw power directly from the sun, wind and other natural resources. We still do not understand the source of gravity. As we travel further into the higher conscious state of Dwapara Yuga, we will comprehend and harness its power.

Dwapara Yuga is dominated by self interest, awakened intellect, and energy awareness. Einstein's theory of relativity and advances in quantum physics are getting man closer to the answer the Rishis in ancient India discovered tens of thousands of years ago that energy and matter are interchangeable and that the true "Unified Theory" Einstein sought is "Infinite Consciousness". Current theories are that dark matter and dark energy account for 96% of the universe's gravitational effect-21% dark matter and 75% dark energy. Dark energy repulses rather than attracts-pushing the stars further apart in an ever expanding universe. A current popular theory among quantum physicists is "string theory". It shows how all particles, and all of the forms of energy in the universe, could be constructed by hypothetical one-dimensional "strings; String theories support the possibility of 10 dimensions--the remaining 6 of which we can't detect directly. These "strings" vibrate in multiple dimensions, and depending on how they vibrate, they might be seen in 3-dimensional space as matter, light, or gravity. It is the vibration of the string which determines whether it appears to be matter or energy, and every form of matter or energy is the result of the vibration of strings. Many cosmologists, including Stephen Hawking, are drawn to string theory because of its mathematical elegance and relative simplicity. The ancient Rishis in India discovered tens of thousands of years ago that the universe is made up of vibrations.

A talk given by Paramhansa Yogananda in Encinitas, California in 1940 expressed that Dwapara Yuga man possesses enough enlightenment to avoid complete destruction, but that "partial dissolution" is quite possible-due not only to war and our own destructive weapons, but to natural catastrophe as well. He described the law of cause and effect whereby the mental and emotional tensions engendered by our world, subtly affect the weather, and even the structure of the earth. Our "bad vibes" result quite literally in destructive storms, hurricanes, floods-even earthquakes. He also repeated Krishna's warning that Lust (sex, alcohol, drugs), Anger and Greed for Gain are the three sure paths to darkness and a temporary, albeit too long, hellish existence.

In this age of ascending Dwapara Yuga, the allure for sex, alcohol, drugs and money (for greed), is very strong, and when one cannot get enough, and there is NEVER enough, anger ensues. The fact that these desires eventually all end in anger should be proof enough of their road to bondage rather than freedom. How sad it is that in 2012, 13% into ascending Dwapara Yuga, mankind still celebrates alcohol daily, in specially built locations called "bars" and "night clubs". In almost every social setting when something desirable happens, people clink glasses full of alcohol to celebrate. Do they not see the misery that alcohol brings to families? Free will is important. Only by voluntarily renouncing alcohol and drugs, which are behind most crimes committed, can mankind free itself from this bondage. Several hundred years from now, people will shudder at the scenes in historical videos of bars, brothels and widespread drug use.

From 4100AD until 7700AD mankind's group consciousness will continue to rise toward enlightenment in ascending Treta Yuga. Replacing Dwapara Yuga's dominant group consciousness of self interest, awakened intellect, and energy awareness, Treta Yuga will be dominated by self-mastery. Thought will be used to communicate and thought will be used control material objects. Treta Yuga man will require no technology to accomplish far greater feats, such as altering, or even creating material objects, as well as controlling natural force. Communication will be through shared thoughts as opposed to the spoken word. Distance will no longer be an issue. Deceit will be impossible. Our core thoughts-held at a subconscious level-are moment by moment, determining every condition of our physical body. The moment we change those inner most thoughts about our body, our body changes. In Dwapara we are unconsciously changing our inner thoughts, sometimes with undesired results. Treta man will change his inner thoughts consciously to only achieve desired results. Treta Yuga man will be able to comprehend, through direct experience, the divine magnetism, the source of all electrical forces on which the creation depends for its existence. Time limitations on things like plant growth and healing will be overcome.

From 7700AD until 12,500AD mankind's group consciousness will peak in enlightenment in ascending Satya Yuga. The group consciousness of enlightenment and self-realization that was experienced from 16,300BC until 11,500BC in the last ascending Satya Yuga will prevail once more.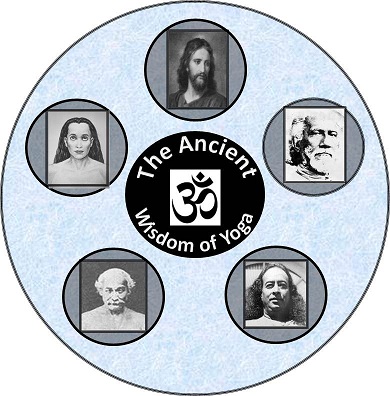 Website Content Copyright
www.ancient-wisdom-of-yoga.com © 2012
The Ancient Wisdom of Yoga, Inc. © 2012
---