Ananda line of gurus: Why is Jesus on the Ananda's altars? Yogananda said that Jesus Christ had actually materialized before Babaji in the Himalayas, and had said to him: "What has happened to my church? They are still doing good works, but they've forgotten the importance of direct, inner communion with God. Let us send an emissary to the West to promulgate my original message once again." Yogananda was that messenger, and his mission to the West included showing the essential oneness of original Christianity as taught by Jesus, and original yoga as taught by Krishna.
Physiological, Psychological and Spiritual Benefits of Yoga(click here to book)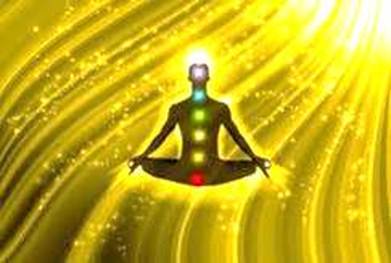 Physiological benefits:
1.Slows the heart rate. 2.Good for people with high blood pressure.
3.Reduces anxiety attacks. 4.Reduces emotional distress.
5.Decreases the aging process.
Psychological benefits:
1.Helps with focus & concentration. 2.Increased emotional stability.
3.Improved relations at home & at work. 4.Helps in quitting smoking & alcohol.
5.Require less time to fall asleep.
Spiritual benefits:
1. Provides peace of mind, happiness. 2. Helps you discover your purpose. 3. Increased compassion. 4. Growing wisdom. 5.Brings body, mind, spirit in harmony. 6.Helps learn forgiveness. 7. Changes attitude toward life. 8.Creates a deeper relationship with your God. 9. Attain enlightenment. 10. Helps living in the present moment. 11. Discovery of the power and consciousness beyond the ego. 12. Experience a sense of "Oneness".
---
"Enter and bathe in the sacred pool of God's love, hidden in the still deep waters of meditation..." Whispers from Eternity by Paramahansa Yogananda
Spiritual eye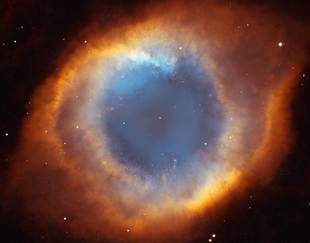 The "spiritual eye" is frequently referenced in yoga, especially when discussing meditation. I have selected a picture of the Helix Nebula, shown to the left, to describe to you what the spiritual eye looks like to all that see it. It is pretty much the same for everyone.
Wikipedia describes the Helix Nebula "as a large
planetary nebula
located in the
constellation
Aquarius
. This nebula is one of the closest to the Earth of all the bright planetary nebulae. The estimated distance is about 700
light-years
. The Helix has often been referred to as the "
Eye of God"
on the Internet, since about 2003."
First, one must have a calm mind in order to meditate. For the mind to be calm, the body must also be calm. The ancient Rishis of India developed Hatha Yoga (mistakenly known in the west as just "yoga") to exercise the body so it could become calm in preparation for meditation. The original true purpose of Hatha Yoga has been somewhat lost in the west and morphed into physical fitness. Paramhansa Yogananda also developed a set of exercises to energize the body and prepare for meditation. These exercises, referred to as "
Yogoda
" teach the participant how to surround each body cell with vital energy to maintain perfect health and to recharge the body with fresh life-current by increasing one's will power. If you are new to meditation, or perhaps interested in exploring new techniques, please go to the
"How to Meditate"
webpage and the
"Hong Sau Meditation"
webpage on this website.
Some meditators, depending on their karma, see the spiritual eye sooner or later than others. There are also those who see the spiritual eye all the time, yet have never been introduced to meditation. One should not be concerned with this as it will begin to appear at the appropriate time. When it does, similar to the picture of the Helix Nebula, you will see an outer bright orange ring surrounding a blue center. In the very center there will be a small white five pointed star. The outer orange ring represents the energy of the astral world. The large blue center represents the causal world, also known as Christ Consciousness, or Kutastha Chaitanya (the Sanskrit word
kutastha
means "that which remains unchanged";
chaitanya
means "consciousness.") The white star represents the Infinite Cosmic God Consciousnes (these three states are described in the slide show on
the home page of this website
). The goal of meditation is to enter the white star and commune in bliss with the Infinite, as described in Yogananda's poem
Samadhi
. Samadhi, a Sanskrit word, means God communion, or one with God.
---
Meditate Daily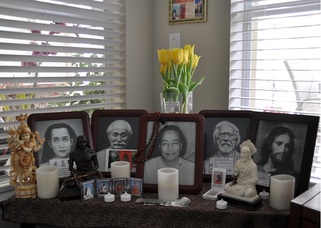 Opening prayer suggestions: Heavenly Father, Divine Mother, I come into this temple of silence, seeking Thee and Thee alone. I leave behind all earthy desires, worries, cares, attachments and repulsions.
Through the grace of my line of gurus I will meditate deeply and long until I find Thee, until You come out of the darkness and until You reveal Thyself to me. I know that you are right here behind the darkness of these closed eyes, waiting for me to come out of the fog of delusion of this physical world; waiting for me to transcend this false ego with its delusion of separateness from Thee and all souls; waiting for me to abandon all body consciousness. Through the grace of my guru, I will meditate until I enter through the door of my spiritual eye into super consciousness, then into Christ consciousness, and ultimately into God consciousness, where I will commune with Thee always in everlasting, ever new joy.
I am unaffected by outward worldly joys or sorrows,or by praise or blame, friendships or betrayals. I am secure in my divine nature as an immortal, timeless, inseparable part of the Infinite Cosmic Consciousness. I regard with equal gaze a clump of mud, a stone, a bar of gold, a million dollars.
T
hey are all just vibrations of the Infinite One Source. I am impartial to all worldly experiences, whether seemingly pleasant or unpleasant. All events are neutral. It is only the ego that assigns labels and judgments, likes and dislikes. All events are only stepping stones across this ocean of delusion. I am firm minded and unaffected by praise or blame. I treat everyone with equal unconditional love, whether friend or foe. I am free from the delusion that in everything I do, I alone am the doer. Such is the path to transcend ego consciousness and all duality. I am grateful for my life exactly as it is. I am thankful for this day. I welcome this moment. Heavenly Father, Divine Mother, Friend, Beloved God, thank you, thank you.
You must cease to think you are a mortal being… Practice this truth in your daily life. It is a battle you have to fight throughout this life and incarnations to come, so it is better to start now! Do not put it off, thinking that you will start meditating tomorrow. Tomorrow will never come….
Journey to Self-Realization (p405-406)
St. Paul said: "I protest by your rejoicing which I have in Christ Jesus our Lord, I die daily." 1Corinthians 15:31
There are many interpretations of the meaning "..I die daily." in the above quote. However, it should be noted that when breath ceases in the Kriya Yogi (through deep Kriya meditation), he is suffused with an incomparable bliss. He realizes then that it is the storm of human breath that is responsible for the creation of the dream wave of the human body and its sensations; it is breath that causes body consciousness. Jesus Christ taught his disciples Kriya meditation. St. Paul practiced Kriya meditation and he was referring to the equivalence of dying daily and communing with God in Kriya meditation.
---
Paramhansa Yogananda's poem Samadhi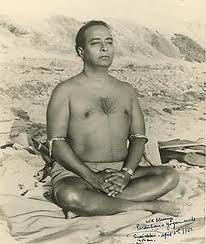 Paramhansa Yogananda's poem Samadhi is a deep and profound description of the
eternal bliss of the Infinite Cosmic God Consciousness one can achieve in meditation. According to Nayaswami Kriyananda, who lived with him the last three years of the master's life on earth, Yogananda told his disciples to recite this poem often and to even
memorize it.

The poem immediately dives into the cosmic meaning of the duality of this "earth-dream" we are living. Each time I recite this poem mentally, I receive more meaning from its words. My humble comments on the feelings the words bring to me today are in italic
parenthesis.

"Vanished the veils of light and shade."
(everything is light, pure energy, that has no darkness)
"Lifted every vapor of sorrow,"
(human suffering is just part of this earth-dream)
"Sailed away all dawns of fleeting joy,"
(there is no permanence in material joys )
"Gone the dim sensory mirage".
(our senses are just the projection of our thoughts)
"Love...hate; health...disease; life...death; perished these false shadows on the screen of duality."
(all life is "maya", illusion and duality. There would be no meaning to "up", without the existence of "down")
"Waves of laughter, scyllas of sarcasm, melanchonic whirlpools, melting in the vast sea of bliss."
(all human materially centered thought and activities are nothing but distractions
hiding from us the ever-present bliss of God's love)
"The storm of maya stilled by magic wand of intuition deep."
(the ups and downs, the frantic thoughts and activities of daily life, which are nothing more than
the illusion, or maya, are calmed in deep daily meditation)
"The universe, forgotten dream, subconsciously
lurks, ready to invade my newly-wakened memory divine."
(in deep meditation we remember that this world is just an illusion, a dream. As immortal souls we
know this, but our attachment to material delusion has dimmed the memory of our
true eternal nature as children of God, our inseparable oneness with the
Infinite Cosmic Consciousness. When we come out of deep meditation, our memory
once more fades and we return to the delusion of everyday maya, delusion)
---
Listen to the poem Samadhi

Click on the picture to the left to connect to youtube.com and
Nayaswami Kriyanada reciting Paramhansa Yogananda's beautiful poem
"Samadhi".

---

Read the poem Samadhi

Click on the picture to the left to connect to Ananda Sangha and
see the words of Paramhansa Yogananda's beautiful poem
"Samadhi".

---
Christ taught his disciples to meditate using a form of kriya yoga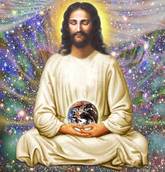 Christ taught his disciples meditation, including a form of kriya.
St Paul said:"I die every day" referring to the breathlessness achieved in deep kriya meditation.
The breathless state of samadhi is the realization of the Absolute.
"The kingdom of God is within you." (Luke 17:21)
"Be still and Know that I am God." (Psalm 46:10)
The light of the body is the eye;
if therefore thine eye be single, thy whole body shall be full of light."
(Matthew 6:22)


---
The Gift of Kriya Yoga


Kriya Yoga was first given, in modern times, in 1860 to Lahiri Mahasaya by Babaji, the incarnation of the great Indian master Narayana, who, later reincarnated as Lord Krishna. This science may be called God's greatest gift to humanity for the soul's salvation, and is the most advanced yoga meditation method of reaching self-realization."The Kriya Yoga that I am giving to the world through you in this nineteenth century," Babaji told Lahiri Mahasaya, "is a revival of the same science that Krishna gave millenniums ago to Arjuna; and that was later known to Patanjali and Christ, and to St. John, St. Paul, and other disciples." Chapter 26 in Autobiography of a Yogi by Paramhansa Yogananda.

---

What is Kriya Yoga?


Kriya Yoga is a psycho-physiological method by which human blood is de-carbonated and recharged with oxygen.
The atoms of this extra oxygen are transmuted into life current to rejuvenate the brain and spinal centers. By stopping the accumulation of venous blood, the yogi is able to lessen or prevent the decay of tissues. The advanced yogi transmutes his cells into energy. Kriya Yoga techniques are passed down from master to disciple, master to aspirant, teacher to student. "The Kriya Yoga that I am giving to the world through you in this nineteenth century," Babaji told Lahiri Mahasaya (in 1861), "is a revival of the same science that Krishna gave millenniums ago to Arjuna; and that was later known to Patanjali and Christ, and to St. John, St. Paul, and other disciples." Chapter 26 in Autobiography of a Yogi by Paramhansa Yogananda.

---
Ananda Meditation Groups:
Please email meditationgroups@ananda.org to find a group in your area.

There is a weekly meditation, led by Henry Huta, being organized in the Riverview/Brandon area of Tampa Bay, Florida. Information will be posted as soon as possible.


---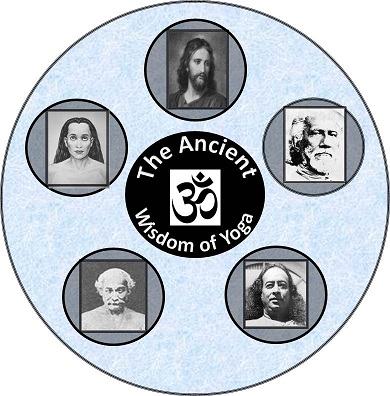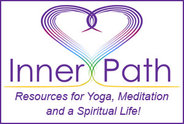 Website Content Copyright
www.ancient-wisdom-of-yoga.com © 2012
The Ancient Wisdom of Yoga, Inc. © 2012
---