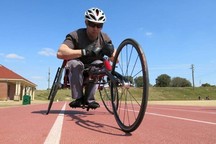 Howie Sanborn
If you didn't believe in the benefits of yoga, both mentally and physically, you should after reading Laura's article in U.S.News. Howie Sanborn, an Airborne Ranger, having served two tours in Iraq, practiced yoga to help him train for triathlons. After being struck by a car on his bicycle, he was unable to walk again.
"I credit a lot of how quickly, both mentally and physically, I bounced back from my accident to yoga," Sanborn says..."D
uring that hour, you focus on you, your body and breathing. You learn how to stop thinking...I do stretches for my hamstrings and pigeon pose, which helps open up my hip flexers. These poses help with the pain in my legs."
At The Ancient Wisdom of Yoga, we offer a variety of yoga classes and styles. We have recently added a Pranayama (Breathing) class that incorporates chair assisted positions for those with special physical needs.
Laura McMullen is a
Health + Wellness
reporter at
U.S. News
. You can follow her on
Twitter
, connect with her on
LinkedIn
, circle her on
Google+
, or email her at
lmcmullen@usnews.com
.