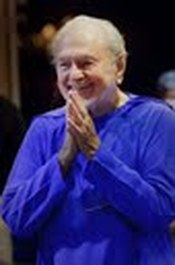 May 19, 1926 - April 21, 2013
Dearest of dears, Swami Kriyananda:
You changed my life and the lives of many thousands, if not millions of souls. You brought the teaching of Paramhansa Yogananda into my heart which set me on the true path of returning home to Divine Mother. I know you saved my soul from numerous future reincarnations and suffering. To paraphrase Master Paramhansa Yogananda, physical death is just like the removal of an overcoat, which was worn temporarily. You are now free from the limited physical form and finally together with Master. What bliss it must be for you to be home again. Sadness at this moment would only be selfish on my part. Swami, you are closer to me and all of us now than you have ever been, because you are free. Now you can be in Assisi, New Delhi, Pune, California, Oregon, everywhere on the globe at once. Master said, he who thinks me near, for him I shall be near. I know you feel the same. You are truly a saint. You will remain in my heart until I join you. Your loving disciple, henry huta.