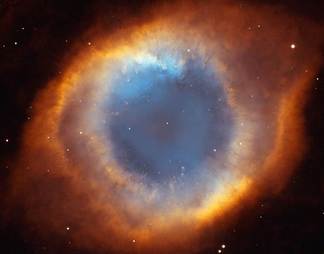 The "spiritual eye" is frequently referenced in yoga, especially when discussing meditation. I have selected a picture of the Helix Nebula, shown to the left, to describe to you what the spiritual eye looks like to all that see it. It is pretty much the same for everyone.
Unrelated to our discussion, but for factual purposes Wikipedia describes the Helix Nebula "as a large
planetary nebula
located in the
constellation
Aquarius
. This nebula is one of the closest to the Earth of all the bright planetary nebulae. The estimated distance is about 700
light-years
. The Helix has often been referred to as the "
Eye of God"
on the Internet, since about 2003."
First, one must have a calm mind in order to meditate. For the mind to be calm, the body must also be calm. The ancient Rishis of India developed Hatha Yoga (mistakenly known in the west as just "yoga") to exercise the body so it could become calm in preparation for meditation. The original true purpose of Hatha Yoga has been somewhat lost in the west and morphed into physical fitness, exclusively for the purpose of physical health. Paramhansa Yogananda also developed a set of exercises to energize the body and prepare it for meditation. These exercises, referred to as "Yogoda" teach the participant how to surround each body cell with vital energy to maintain perfect health and to recharge the body with fresh life-current by increasing one's will power. If you are new to meditation, or perhaps interested in exploring new techniques, please go to the "How to Meditate" webpage and the "Hong Sau Meditation" webpage on this website.

Some meditators, depending on their karma, see the spiritual eye sooner or later than others. There are also those who see the spiritual eye all the time, yet have never been introduced to meditation. One should not be concerned with this as it will begin to appear at the appropriate time. When it does, similar to the picture of the Helix Nebula, you will see an outer bright orange ring surrounding a blue center. In the very center there will be a small white five pointed star. The outer orange ring represents the energy of the astral world. The large blue center represents the causal world, also known as Christ Consciousness, or Katushta Chaitanya. The white star represents the Infinite Cosmic God Consciousnes (these three states are described in the slide show on the home page of this website). The goal of meditation is to enter the white star and commune with the Infinite in His bliss, as described in my last blog about Yogananda's poem Samadhi. Samadhi, a Sanskrit word, means God communion, or one with God.

"Enter and bathe in the sacred pool of God's love, hidden in the still deep waters of meditation..." Whispers from Eternity by Paramahansa Yogananda
Namaste, henry