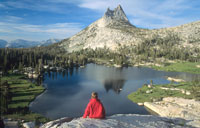 Buddhist monk, Godo Nakanishi
The Buddhist monk, Godo Nakanishi, once spent several days sitting quietly on a snow-covered mountain. The birds living there noticed him, but fear of humans kept them a safe distance away. As the monk continued to meditate, he became more and more absorbed in the inner silence. Gradually, the wild birds lost their fear and accepted Godo's presence because of the wonderful peace he emanated. A few birds, apparently attracted to the serene monk, landed and perched on his motionless body.
read more at ananda.org/daily-meditator/
JOIN US FOR MEDITATION EVERY SATURDAY AT 10:30 AM AND SUNDAY AT 1:15 PM AT THE ANCIENT WISDOM OF YOGA, 10209 GIBSONTON DR., RIVERVIEW, FL 33578. YOU CAN SIGN UP ON LINE AND REGISTER WITH US BY CLICKING HERE, OR JUST STOP BY AND REGISTER.