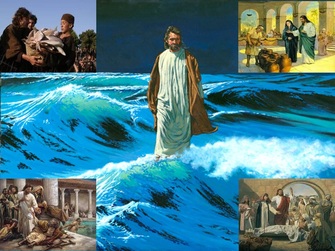 The Omnipresent Consciousness of Christ and Krishna
"Yoga teaches that body control by which you can understand that the flesh is simply condensed energy. And what is energy but the product of God's thought? He concentrated, or thought, and there was energy...the difference between solids, liquids, and gases is only a difference in God's thought. Jesus understood this, and because he was attuned to the divine consciousness, he could walk on water and change water into wine. He beheld the body and the water as projected thoughts of God and realized that it was a simple matter for one thought (the water) to uphold another thought (his body). So once you realize, as Jesus did, that there is essentially nothing in the universe but mind or consciousness, you can do anything. (p117)"
The body is materialized thought. Money is materialized thought. Every time you look at money, the very first thing you should think of is that you materialized it – no matter how much or how little, and you can materialize as much more as you wish. You can attract money by thought. Attract money primarily to benefit others, while also caring for your own needs.