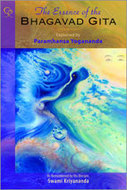 The previous blog on 6/6/14 was about the way home.This quote from the Bhagavad Gita explains how easy it is to become lost in delusion."If one ponders on sense objects, there springs up attraction to them.
From attraction grows desire.
Desire, impatient for fulfillment, flames to anger.
From anger there arises infatuation (the delusion that one object alone is worth clinging to, to the exclusion of all others).
From infatuation ensues forgetfulness of the higher Self.
From forgetfulness of the Self follows degeneration of the discriminative faculty.
And when discrimination is lost, there follows the annihilation of one's spiritual life."
Bhagavad Gita.