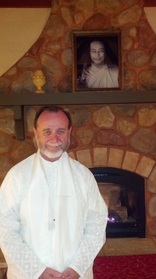 Last Sunday (November 18, 2012) I returned from a 4 week full immersion intensive yoga teacher training course. It was 7 days a week 12+ hours a day and it's the toughest thing I've done since Marine Corps boot camp in Parris Island, SC. Of course, I was only 17 years old back then. It is also one of the most spiritually renewing 4 weeks I have ever spent. I am grateful for having had this opportunity to graduate as a certified RYT Ananda Yoga Teacher. During the 4 weeks I also renewed my marriage vows to my loving wife Sharon and as a Tyagi in the Nayaswami Renunciate Order
http://www.nayaswami.org/
. Here is my graduation interview
http://www.youtube.com/watch?v=qmfB_3f2O5s
Among the congratulations, I received a great quote by Paramhasa Yogananda from my dear friend Shivani Sachdeva Nayajivan. I would like to make this quote the real purpose of this communication as it is appropriate in this time of world economic and political unrest:

"Go on worry fasts. Three times a day, shake off all worries.

At seven o'clock in the morning, say to yourself, "All my worries of the night are cast out, and from 7 to 8 a.m. I refuse to worry, no matter how troublesome are the duties ahead of me. I am on a worry fast."

From noon to 1 p.m., say, "I am cheerful, I will not worry."

In the evening, between six and nine o'clock, while in the company ... of your spouse or hard-to-get-along-with relatives or friends, mentally make a strong resolution: "Within these three hours I will not worry. I refuse to get vexed, even if I am nagged. No matter how tempting it is to indulge in a worry feast, I will resist the temptation. I must not sabotage my peace-heart by shocks of worries. I cannot afford to worry—I am on a worry fast."

After you succeed in carrying out worry fasts during certain hours of the day, try fasting for one or two weeks at a time.

Then, try to prevent the accumulation of worry poisons in your system entirely."
--Paramhansa Yogananda.

Namaste, Tyagi henry