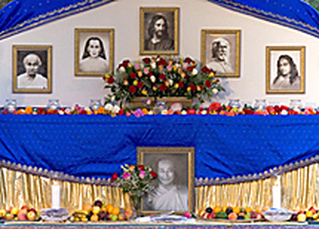 Many spiritual seekers, hungry for direct communion with the Infinite, are tired of the dogmas associated with traditional religion. This makes many of them leery of the mechanical aspects of any spiritual technique. It is understandable that they don't want techniques to interfere with their devotion to God.
However, there is a lesson in an interesting story told by Paramhansa Yogananda about a man, a sincere devotee who had been following the path of Bakhti Yoga
(Devotional Yoga) for over 20 years. Yogananda tried to get the man to take initiation into Kriya Yoga (the highest form of meditation), but he stubbornly refused. The Master asked him: "Have you had the experience of God you have been looking for?". The man replied that he had not, but that he was sure it would come eventually. Yogananda explained: "You have been locked in a room for over 20 years, trying to get out through the ceiling, the walls, the floor. I'm showing you where the door is." With that explanation, the man agreed to be initiated into Kriya Yoga. A week later, the man overjoyed, returned to Yogananda and told him that he had the direct God experience he had been seeking for 20 years.
"The average devotee may struggle his whole life trying to escape the bodily limitations by unscientific means, and by the paths only of devotion or discrimination. By Kriya Yoga, however, if he is sincere, he can escape quickly. Kriya Yoga takes one to God by the universal highway: the spine." (quote from
Ananda Sanga
website)
So, dear fellow seekers, technique is a matter of showing you where the door is. If you don't learn how to open your mind to God, you won't find him. I urge you to seek out a genuine teacher who can guide you to Kriya Yoga. Ananda Sangha offers free online classes to prepare you for Kriya.
I'm sure you will be guided to a genuine teacher when you are ready.