The following article was written by Nayaswami Jyotish and Devi, the spiritual leaders of Ananda Sangha Worldwide, and Swami Kriyananda's successors. Subscribe at http://www.atouchoflightletter.com/subscribe/.
For further information on Ananda Sangha, Swami Kriyananda, Paramhansa Yogananda, and a wealth of resources on yoga, meditation and enlightenment please visit http://www.ananda.org/
The first of three great waves of blessing for mankind began in 1861 in the Himalayas. It was then that the great avatar Babaji initiated his disciple, Lahiri Mahasaya, into the yogic science of Kriya Yoga. As he was about to return to his job and family, Lahiri pleaded to Babaji, "I pray that you permit me to communicate Kriya to all seekers, even though at first they cannot vow themselves to complete inner renunciation. The tormented men and women of the world, pursued by the threefold suffering, need special encouragement. They may never attempt the road to freedom if Kriya initiation be withheld from them."
​
Thus the blessing of Kriya became available to sincere men and women like you and me. This first wave was, however, confined to India. Among Lahiri's many disciples were Yogananda's parents and his guru, Sri Yukteswar. During his years in India Yogananda was prepared for his divine mission, to bring the science of meditation to the millions of thirsty souls in the West.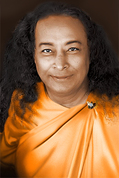 The second wave began with Yogananda'a coming to America in 1920, where he lectured and wrote tirelessly. In the next 30 years he personally taught more than 100,000 people the ancient science of yoga and Kriya meditation, and planted these practices in the mindscape of America. His mission was to uplift the consciousness of a whole culture, and to knit together East and West. It culminated with the publishing of
Autobiography of a Yogi
, one of the most influential books ever written.
And yet that book is not meant to be just read. It needs to be lived. It is an owner's manual for how to live a happy, successful, and holy life in these modern times. Another, third, wave was needed to
demonstrate
that these teachings are practical in the home, and the workplace, and the schools; that they are effective in health and sickness, in birth and death, and not only in the church. This third wave started in, of all places, Beverly Hills, California. As Swami Kriyananda writes in
The New Path
:
"I remember especially how stirred I was by a talk he gave at a garden party in Beverly Hills on July 31, 1949. Never had I imagined that the power of human speech could be so overwhelming; it was the most moving talk I have ever heard.
"'This day,' he thundered, punctuating every word, 'marks the birth of a new era. My spoken words are registered in the ether, in the Spirit of God, and they shall move the West. . . . Self-Realization has come to unite all religions. . . . We must go on—not only those who are here, but thousands of youths must go North, South, East, and West to cover the earth with little colonies, demonstrating that simplicity of living plus high thinking lead to the greatest happiness!'"
​
This third wave is
our
golden opportunity. If we live our lives in attunement with the Divine within us, and practice a life of meditation and selfless service, it will lead to our own greatest happiness. But, more than that, this third wave can fulfill Master's promise of a new and better era for the whole world.
In joy, Nayaswami Jyotish