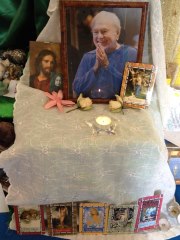 Every Monday in school, during circle time, we all take angel cards and put them on the altar. There are all kinds of cards; music, nature, body care, friendship... there are about 50 cards in the card deck. So we did on Monday, April 22nd, the day after Swamiji had left his body. We all took our cards, all my students and I.

Then a 6 year old girl asks "Can Swami take a card?"
Me: Yeah sure, but how is that going to work? (Holding all the cards in front of Swamiji's picture on our altar)
... Silence...
Girl:"well, he chooses one." ...silence...Girl: "Ok, I'll choose one for him!" Usually, all the kids pick out a card which is hidden somewhere in the middle or they pull one out which is way underneath, taking them between 10 and 20 seconds. This time, the girl reached out and went straight for one card, immediately. She turned the card around, it said: FREEDOM...

from Eef Kerremans, a teacher (former student of mine at Ananda College) at Ananda Assisi elementary school in Italy.