Sherry Smith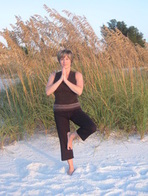 Thai Yoga Massage unlike any other kind of massage.
It's done on the floor mat fully clothed. Thai Yoga Massage gets into areas where a normal massage doesn't get into. The premise of this massage is that I treat trigger points and then stretch it all out. This massage trains the muscles to go further than they normally go and they get out of their habitual protective patterns and change the muscle memory. The experience with most of my clients is that with the combination of Thai Yoga Massage and some yoga on their own, they see significant differences. In some cases where they were in chronic pain, are now completely PAIN FREE!
Services offered:
Thai Massage Therapy: 60 minute massage $85.00
Thai Massage Therapy: 90 minute massage $110.00
Sherry prefers to be contacted directly at ssmithyoga@gmail.com, or call (813) 842-2366 for an appointment, rather than online booking.

---