In The Flow with Peggy Saturday August 3, 2013 10:30am-12:30pm. Price is $20 per person.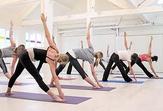 In this workshop we will be enjoying the Triyoga flows, a unique system of hatha yoga developed by Kali Ray.
Through practicing the flowing series students learn to
move with their breath, flowing from one posture to
the next, creating relaxation in action.With sustained
awareness on all aspects of the practice, the inner flow
naturally emerges.
Pre-register by clicking here
---