Ayurvedic Nutrition Class-A Joyful Spring Workshop with Dr. Archana Kulkarni and Barbara-May Sanders Saturday March 29, 2014 11am-1:30 pm (Limited seating).
$Price is $50 if you preregister, or $55 per person at door (includes all supplies).
CLICK HERE TO REGISTER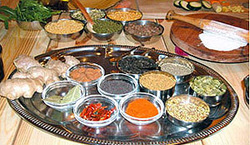 In Ayurveda, we follow seasonal changes and make appropriate adjustments to our nutrition and lifestyle, to optimize our health and well-being. Food is an important aspect of the Ayurvedic system, therefore; Balance, Moderation and Compatibility are the key ingredients to a happy and content life. This class will explore how to improve and maintain good health in Spring by cooking and eating delicious, simple meals according to Ayurveda.

Dr. Archana Kulkarni and Barbara May-Sanders invite you to experience a wholesome nourishing lunch.
---