Tony Makhlouf D.O.M
Master in oriental medicine from acupuncture and massage college from Miami Florida.
Bachelor in health and science from acupuncture and massage college.
Bachelor in alternative medicine from Everglade university.
Associated member of Nccaom what does it means?To be member of Nccaom you should pass all the requirement by law. 457.105 Licensure qualifications: It is unlawful for any person to practice acupuncture in this state unless such person has been licensed by the board, is in a board-approved course of study, or is otherwise exempted by this chapter.
A person may become licensed to practice acupuncture if the person applies to the department and: has completed a 4-year course of study in acupuncture and oriental medicine, which meets standards established by the board by rule, which standards include, but are not limited to, successful completion of academic courses in western anatomy, western physiology, western pathology, western biomedical terminology, first aid, and cardiopulmonary resuscitation (CPR). Has successfully completed a board-approved national certification process, is actively licensed in a state that has examination requirements that are substantially equivalent to or more stringent than those of this state, or passes an examination administered by the department, which examination tests the applicant's competency and knowledge of the practice of acupuncture and oriental medicine.
Initial Consultation
(You must complete an Initial Consultation before booking follow-up treatments of $70
- scroll down to "Acupuncture Treatment Session")
A typical 90 minute treatment is $95 per person (Prior acupuncture clients at TAWYOGA will only be charged $70).To book an appointment for:
Mon 4pm-6pm;
Tues 9am-2pm;
Fri 4pm-6pm;
Sat 9am-2pm
​click here, or please call Sharon or Henry at (813) 672-1080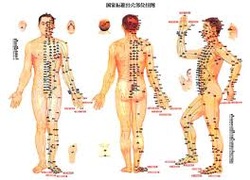 Acupuncture meridians are invisible energy pathways in your body that have been used therapeutically for over 5000 years. These meridians conduct lifeforce energy, or Qi (pronounced "chee") in and around all the parts of your body. Blockage or interference in these meridian pathways can result in energetic imbalances that may contribute to negative health conditions. The primary goal of acupuncture treatment is to restore energetic balance and proper energy flow to these meridians, thus allowing your body to function normally and return to health naturally.

What will I learn from the Exam? We will find your relative energetic balance in each of the acupuncture channels (meridians) as well as the relationship between the channels. The balance or imbalance is an important key to understanding the state of your health and potential health issues.
---
(You must complete an Initial Consultation (scroll up) before booking a treatment)
Acupuncture Treatment Session
$70 per person for one hour treatment
To book a Thursday appointment click here, or please call Sharon or Henry at (813) 672-1080
Acupuncture is a medical therapy that was developed over 2,000 years ago in Asia. It stimulates specific points beneath the skin by the insertion of very thin "fine hair like needles". This process restores the balance of the body's energy, also known as "Qi" (pronounced chi). It also helps the free flow of blood and electrical energy within the 14 major meridians (Channel pathways the Chinese mapped within the body). Acupuncture, Herbal Medicine, Tai Chi, and cupping are some of the essential elements of Traditional Chinese Medicine.


Will it hurt? Acupuncture needles are extremely thin made from silver alloy typically stainless steel. You most probably will feel little or no discomfort as the needles are inserted as the process is typically painless. What you might feel are different sensations including slight soreness, heaviness, numbness, tingling, warmth, or pressure. These energetic sensations differs from person to person. People often comment that the feeling is unfamiliar but pleasant and comforting.

Is it safe? Acupuncture therapy has been used for thousands of years in China. Acupuncture is the treatment of choice for one-fourth of the world's population! The needles are FDA approved, individually packaged, pre-sterilized and disposed after a single use.

What should I expect for my first treatment? After the first treatment has been administered, depending on the aliment being treated, many experiences may occur. Immediate, total or partial relief from pain or other symptoms may be experienced. Some patients experience a sudden burst of energy while others may feel relaxed. Many people feel very calm and relaxed after a treatment. It is an uncommon occurrence for some minor localized bleeding or bruises to occur under the skin, but it can occur in some people and are no cause for alarm. Also the reabsorption of the blood continues the stimulation of the acupuncture point even without the needle in place.

How long do the treatments take? In most situations treatments take between 30 and 40 minutes in total but can last longer in certain scenarios. The length of the treatment depends on the individual conditions of each person.

What conditions can acupuncture treat? Many conditions may be treated. General pain relief and control for arthritis, cervical spondylopathy, knee pain, hand and foot pain, sciatica, shoulder pain, tennis elbow, lower back and neck pain, tendonitis, ect. Other conditions such as circulatory problems with high or low blood pressure, cold hands and feet. Some nervous system imbalances can also be treated such as anxiety, nervousness, sleeplessness, depression, asthma, allergies and sinus problems; digestive disorders like Crohns Disease, irritable bowel syndrome, ulcerative colitis, diarrhea, and constipation. Other common ailments treated include headaches and migraines; treatments to help stop smoking, and many more conditions.
(You must complete an Initial Consultation before booking a treatment)
COMPLETE LIST OF SERVICES
Digestive Disorders: Diarrhea, Constipation, Gastritis, Acid reflux, GIRD, Ulcers, Irritable Bowel Syndrome, Colitis, etc.
Pain: Migraine/Headache, Back and Neck, Carpal Tunnel Syndrome, Sciatica, Tendonitis, Toothache, Arthritis, Injuries, etc.
Emotional Disorders: Anxiety, Depression, Insomnia, PTSD, Stress, etc.
Respiratory Disorders: Asthma, Allergies, Sinusitis, Sore Throat, Pneumonia, Cough, Bronchitis, Common Cold, Flu, etc.
Women's Issues: PMS, GYN disorders, Menopause, Irregular menstruation, Painful periods, Endometriosis, etc.
Circulatory Disorders: High or Low Blood Pressure, Cold Extremities, Palpitations, Bruising or Bleeding, etc.
Neurological Disorders: Bell 's palsy, Numbness, Stroke, MS, Parkinson's, Neuropathy, etc.
Urinary/Kidney Disorders: Kidney Stones, Cystitis, Bladder Infection, etc.
​Children's Diseases: Measles, Mumps, Growing Pains, Ear Aches, etc
Other: Vertigo, Prostatitis, Skin Disorders, Diabetes, Conjunctivitis, Fatigue, Liver & Gall Bladder Problems, etc.